Exclusive Gym and Pool in Amman - Sheraton Fitness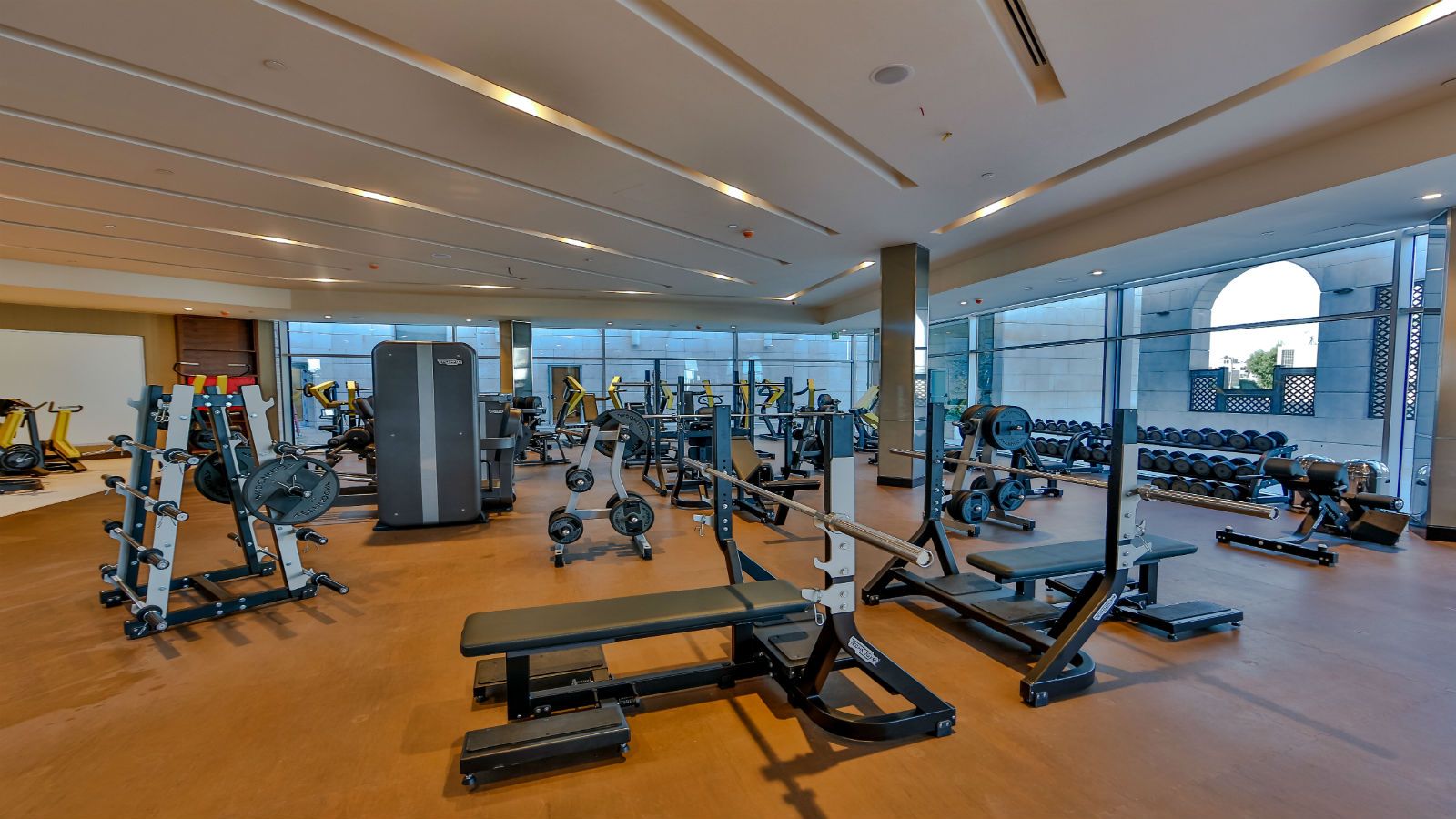 Travel and fitness go hand in hand. The Sheraton fitness program was created to keep guests at their peak at all times.

You can take part in the state-of-the-art gym in Sheraton Amman Al Nabil Hotel, specialized restaurant dining options and more. Staying fit has never been easier.
Opening hours: 6:00 AM till 11:00 PM ; Exercise Studios open 24 hours
Join our gym in Amman today! Call us today for signing up for annual memberships.
For Enquiries call on (962-6) 5934111.
Facilities at Sheraton Gym in Amman
State of the art Exercise studios with the latest cardio and weight lifting machines from Technogym and Life Fitness, where you can plan, prepare, save and share workout results with your friends.
Treatment rooms, to be enjoyed with our offering of Swedish massage, reflexology massage and sports stretches.
Men's & ladies clubs with lockers, sauna, steam room and a relaxation room.
Indoor & outdoor lap pools.
Jacuzzi
Stay active at Sheraton Amman - we offer you both an indoor and an outdoor swimming pool. Our outdoor pool is one of the largest pools in Amman with over 380 sqm of swimming area and the rectangular shape of the pool allows for fitness lap swimming. Delicious food and drinks variety are available at the pool bar.
A range of massage treatments are offered for your relaxation:
Swedish massage for full body,back and shoulders
Reflexology massage
Passive stretching
PNF Stretching
All treatments are performed by professional masseuses.
For the safety of our young guests
Dear parents and guardians,
To keep your kids safe while using the facilities please mind the below regulations:

• Children under 18 can only use the pools during designated kids' hours and must be supervised by a guardian at all times.
• Children under 16 are not allowed to use the Jacuzzi as the high water temperature presents a hazard of overheating and may be detrimental to their health.
• To avoid slipping, falling and injury, running is not permitted.
• Appropriate swimwear must be worn in the pool areas at all times.
• Horseplay in and around the pool areas should be strongly discouraged.
Indoor pool kids hours: 10:00 am to 6:00 pm
Outdoor pool kids hours: 10:00 am to 7:00 pm

CAUTION: Be aware of slippery wet floors around pool deck.
NO DIVING: In case of emergency, use phone marked EMERGENCY.